"Let me be clear: The use of starvation as a weapon of war is a war crime. All sides — including the Syrian government, which has the primary responsibility to protect Syrians — are committing this and other atrocious acts prohibited under international humanitarian law."
This stark statement by UN Secretary-General Ban Ki-Moon on January 10th accompanied UN efforts to draw attention to the desperate situation of many of Syria's besieged cities, one of which is Madaya.
Madaya came onto the global radar after the Syrian-American Medical Society published a number of heart-wrenching images in a report on the unbearable conditions of the town. Its estimated 35'000 inhabitants have been under siege since July 2015, with land mines and sniper attacks preventing entry and exit and humanitarian convoys being barred entry (until recently).
This led to a steady worsening of conditions as food grew scarcer and prices skyrocketed. For instance, in Damascus, flour costs 79 cents a kilogram. But in Madaya, a kilo of flour costs $120, and a kilo of rice costs $150. In the capital, milk costs $1.06 a liter. But in Madaya, the price soars to $300 a liter.
Once all cats and dogs had been eaten, people resorted to consuming leaves and salt water to numb the hunger. Reportedly, at least 23 people starved to death. Aid shipments that were promised since December were delayed again and again, until an endless series of negotiations resulted in the Red Cross and WFP gaining access to bring in emergency food supplies.
When I heard these reports, two questions sprang to my mind.
First, how many more villages are suffering under these conditions without the help of public outrage to allow relief efforts in? That was easily answered, courtesy of the CNN who cites Kyung-Wha Kang, a U.N. assistant secretary-general:
Regrettably, siege and starvation as a weapon of war has become routine and systematic in Syria, with devastating consequences for civilians. About 400,000 Syrians [in 15 cities] are trapped in besieged areas by government and allied forces, ISIS, nonstate armed groups and the Al Nusra Front.
Overall, 12 towns, with more than 180,000 inhabitants, are besieged by the regime or their allies. According to the United Nations, another 200,000 Syrians are trapped by the Islamic State in the town of Deir al-Zour. On the other hand, in al-Fouaa and Kefraya, two towns in the country's northwest, about 20,000 have been suffering under a rebel blockade. It seems the sieges of Madaya and Zabadani may be a direct tit-for-tat tactic played by the government.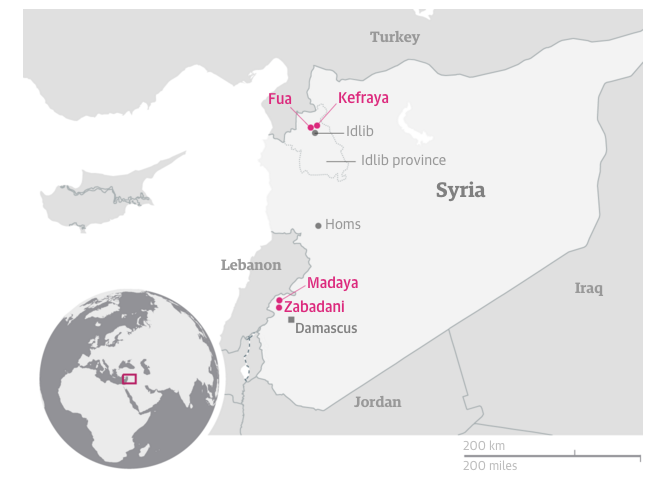 Second, how likely is it that the conflict parties will be held accountable for using starvation as a war instrument?
This issue is explored in fascinating depth in the article "Enforced Starvation: Exploring Individual Criminal Responsibility for State-Induced Famines" by Daniel Butler. He argues that starvation and famine as a weapon of war has been direly ignored by the international legal community, despite their ubiquity – claiming the lives of more than 70 million people in the 20th century in places like Ukraine or North Korea.
For instance, "during 1999, there were reliable reports of the deliberate starvation by Milosevic of the people of Kosovo, which resulted directly in over 20,000 deaths. Aid was sent, but security forces prevented United Nations High Commissioner for Refugees convoys from delivering it. Despite the prohibition of this behaviour in international criminal law, the indictment did not include enforced starvation but focused on acts of physical violence." 
It is actually quite hard to use the existing international legal instruments to prosecute the use of starvation as a weapon of war.
First, only individuals, not states themselves, can be held responsible. While human rights law, particularly the right to food,  should protect the rights of the residents of Madaya and the other besieged countries, it is states' responsibilities to implement it within their own borders – leading to the absurd scenario that the Syrian government would have to indict Assad for failing to guarantee the right to food to Syrians. Unlikely.
While starvation is addressed in genocide law, you would have to prove the intent to exterminate a group due to their national, ethnical, racial or religious identity. Crucially, political groups – as in, civilians governed by rebel groups – are not protected per se, which weakens this instrument considerably.
So we turn to the rules of war, and humanitarian law. More fascinating insights: until and including regarding World War II, starvation was expressly permitted as a war tactic. The Von Leeb case in the Nuremburg trials cites : "'commanders may lawfully lay siege to a place controlled by the enemy…to cause its surrender. The cutting off of every source of sustenance…to reduce it by starvation…is deemed legitimate.'" Then come along the Geneva Conventions and their Additional Protocols, and bingo: Article 14 of Additional Protocol II on intrastate conflicts – added in 1977 – is a gold mine. Only 1977, though, guys!
"Starvation of civilians as a method of combat is prohibited.

It is therefore prohibited to attack, destroy, remove or render useless, for that purpose, objects indispensable to the survival of the civilian population, such as foodstuffs, agricultural areas for the production of foodstuffs, crops, livestock, drinking water installations and supplies and irrigation works."
 This is what Ban Ki-Moon referenced in his quote above. But can we enforce it? Eeeeh maybe, though for the more immediate concern – bringing in relief efforts – there is a loophole: Article 18.
"2. If the civilian population is suffering undue hardship owing to a lack of the supplies essential for its survival, such as foodstuffs and medical supplies, relief actions for the civilian population which are of an exclusively humanitarian and impartial nature and which are conducted without any adverse distinction shall be undertaken subject to the consent of the High Contracting Party concerned."
So it's an interesting double-bind: According to international law, the Syrian government may not attack, remove or destroy foodstuffs, but it has the authority to refuse humanitarian assistance, as it has done in recent months. And then, there is the issue of who would prosecute it. Since Syria is not a party to the International Criminal Court, only the Security Council could refer the situation there – and with both Russia and China as permanent members, that possibility is slim. Indeed, they've vetoed that exact idea before, in 2014.
In conclusion, accountability seems scarce as victim numbers are steadily on the rise. In 5 days, peace talks are scheduled in Geneva in the latest effort to end the five year old conflict that already cost the lives of more than 250'000 people.
Let's hope that the sparks of civility that led to the 1977 agreement on rules of war will re-emerge during the talks.
featured image by IHH Humanitarian Relief Foundation, via CC.