I've been thinking a lot about power lately. Market power, to be precise. The coffee industry has always been relatively concentrated, but currently it is undergoing a period of consolidation that is reverberating across the sector.
And it's not alone: one of the most surprising news stories in recent weeks has been the announced $66 billion takeover of Monsanto by Bayer, which still needs approval by antitrust regulators. Should they approve, the deal would create the world's largest agribusiness, selling 29% of the world's seeds and 24% of the world's pesticides. And this is not the first attempted merger the agrochemical and seed industry has seen these days: in December 2015, Dow Chemicals and DuPont Co. presented their plan to create DowDupont, a firm worth $130 billion; and in February, the Chinese state company ChemChina offered $43 billion to take over Syngenta. Both of these deals are also still under investigation.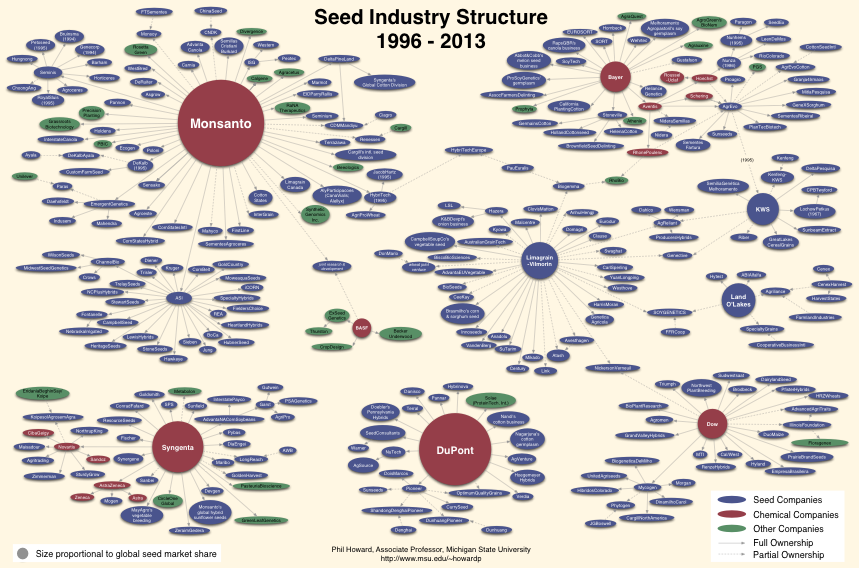 2016 is thus clearly the year of mergers and acquisitions. When I asked a (coffee) industry expert about it, though, he just shrugged, saying it's cyclical. "This is how corporations make their money – they acquire, streamline operations, cut costs, and spin off (sell) the individual bits," he explained. His conclusion was stoic: "It's happened before, it will happen again." This got me wondering: what is the real deal about the seed and agrochem industry concentration? And is it a big deal after all?
Well, let me tell you.
The first thing we need to understand is why this is happening, and why now. Of course, this string of announced mergers is no coincidence: hit with declining revenues as US farmers bought less agrochemicals amidst their own financial crisis and distrust over mounting weed and pest resistance to pesticides and GM (genetically modified) seeds led to the first decrease in planted acreage of biotech crops since their advent, the companies desperately need quick revenue boosts. Mergers and acquisitions are clearly their best option, especially as all of their main rivals do the same.
Furthermore, they are hoping to raise the necessary capital to get involved with the newest gene editing technology (a technique known as CRISPR-Cas). It's said that this technique harbors the possibility of developing new seeds more efficiently and in much shorter timeframes, which is undeniably important, considering that on average, a new seed requires 13 years and $136 million to get to market. But the even greater advantage of CRISPR is more circumspect – it is hoped that both consumers and regulators will see and treat gene editing as different from conventional genetic modification, opening up potential new markets and deflecting the criticism that has followed agrochem giants around for decades.
Whichever the ultimate reason, though, the simultaneity and scale of these developments have taken observers by surprise, even those that have closely watched the industry and anticipated additional consolidation. In fact, just about a month ago, the US Senate Judicial Committee held a hearing on the topic of Consolidation and Competition in the U.S. Seed and Agrochemical Industry. Representatives from farming states on both sides of the aisle said they were extremely worried about the effect these mergers would have on the price and access to inputs that farmers need.
Indeed, there are signs that a lack of competition has already led to adverse outcomes for farmers: according to an analysis by Iowa State University, after consolidation started in the early 1990s,  the collective costs of seed, chemicals, and fertilizer for an acre of soybeans went up by 94% over the last 20 years. This is much higher than inflation would lead us to expect, and in no relation to the volatile crop prices that have gone up and down.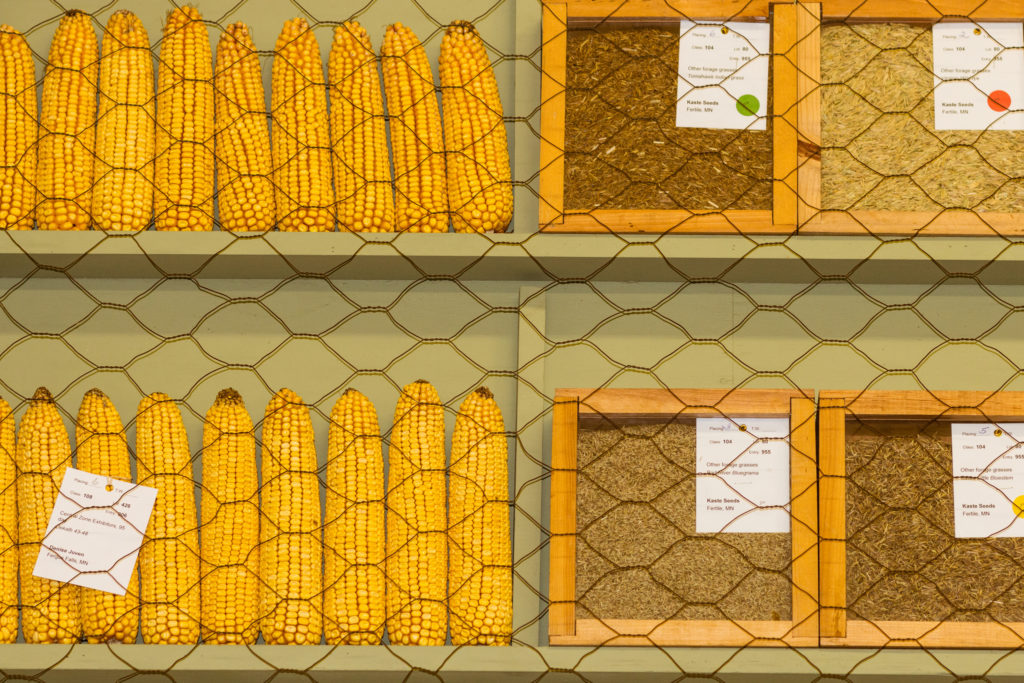 In addition, buying up smaller seed marketers and distributors allowed the large companies to control their channels to market, making it more and more difficult for farmers to get non-GM seeds even if they were seeking them out. A virtual oligopoly on seeds then allows for unchecked price hikes, as many GM seeds are illegal or impossible to replicate, locking farmers into purchasing from this oligopoly year after year. This practice furthermore decreases seed diversity, a topic which we have addressed earlier.
There is also evidence that greater corporate clout – and budgets – are leading to increased political influence through intricate lobbying channels. The recent mock trial of Monsanto in the Hague, organized by an international coalition of environmental and human rights groups, based part of its evidence on a new report by Corporate Europe describing the different avenues agrochemical corporations are taking to sway domestic policies in the US and Europe. This spans from direct lobbying – according to estimates, Monsanto and Bayer together spent around $120 million in Washington over the last decade – to the participation in expert groups, the funding of industry associations and meetings, and the commissioning of their own studies that contradict scientific opinions criticizing them.
Furthermore, they considerably steer public dialogue and opinion about the future of agriculture – Monsanto and Dupont are first-tier sponsors of the World Food Prize, which is infallibly awarded to researchers dedicated to biotech innovations (this year's laureates are pioneers in biofortification of foods); while Syngenta, for instance, sponsors McGill's Conference on Global Food Security.  But it's not only conferences – agricultural research itself is dominated by the Big Six (Bayer (Germany), Syngenta (Switzerland), BASF (Germany), Dow Agrosciences (US), Monsanto (US), and DuPont (US).)
According to the Seedmap initiative, The Big Six firms accounted for over three-quarters of total private sector research and development (R&D) spending in the seed sector (76%) and the same share (76%) in the agrochemical sector in 2010. On average, at least 70% of this R&D is focused on biotech and genetic engineering. In addition, private donations account for up to 25% of public universities' agricultural research budget, and many of these donations come from the Big Six. This leaves little room for alternative research, or research that opposes their viewpoint.
Going one step further, industry actors – including the opposite side, one might add, from the growing organic sector – have also recruited scientists to contribute to the increasingly nasty PR war over the safety and benefits of GM products.
In conclusion, it seems that market concentration = money = power, in our world. Industry concentration wouldn't be so bad if they were providing a product to well-informed (farming) customers with the choice to stop purchasing seeds and rather replicate their own; if final consumers had the right to know which products contained GM commodities to consciously avoid these types of industry ties (Monsanto also poured a reported $8.1 million into a campaign against the GM labeling initiative in California); and if there was a vibrant and respectful academic research sector and public dialogue indiscriminately exploring all options toward "Feeding the World".
Unfortunately, right now, and most probably increasingly if these mergers go through, research and PR funding will be captured by private interests, lawmakers will be enticed with lucrative offers to deregulate, and the discourse over the future of agriculture will continue to be dominated by corporate voices. Let's hope that public interest groups also continue to provide information and counterarguments, despite their smaller budgets, in order to help us, researchers and lawmakers to make the right choice.