In addition to being a world-famous chef and juror on Top Chef, Tom Colicchio also fights for the right to food on a policy level. Food Policy Action, an NGO he co-founded, scores US policy makers on their voting record on bills related to agriculture, nutrition and hunger. What can we learn from their aggregate results?
As I was biking to my local farmers' market, I listened to a podcast presenting Tom Colicchio, the renowned celebrity chef known for his role as head juror on Top Chef. My interest was peaked when he revealed that in addition to his cooking, since 2012 he'd become engaged in federal food politics through an organization called Food Policy Action. So, laden with pineapple, avocados and tomatoes, I headed home to find out more.
Food Policy Action's mission is simple: The electorate can hold their representatives accountable for their decisions, but only if this track record is easily accessible and understood. Thus, they devised a score card that tracks bills related to domestic and international hunger, food safety, food access, farm subsidies, animal welfare, food and farm labor, nutrition, food additives, food transparency, local and regional food production, organic farming and the effects of food production on the environment.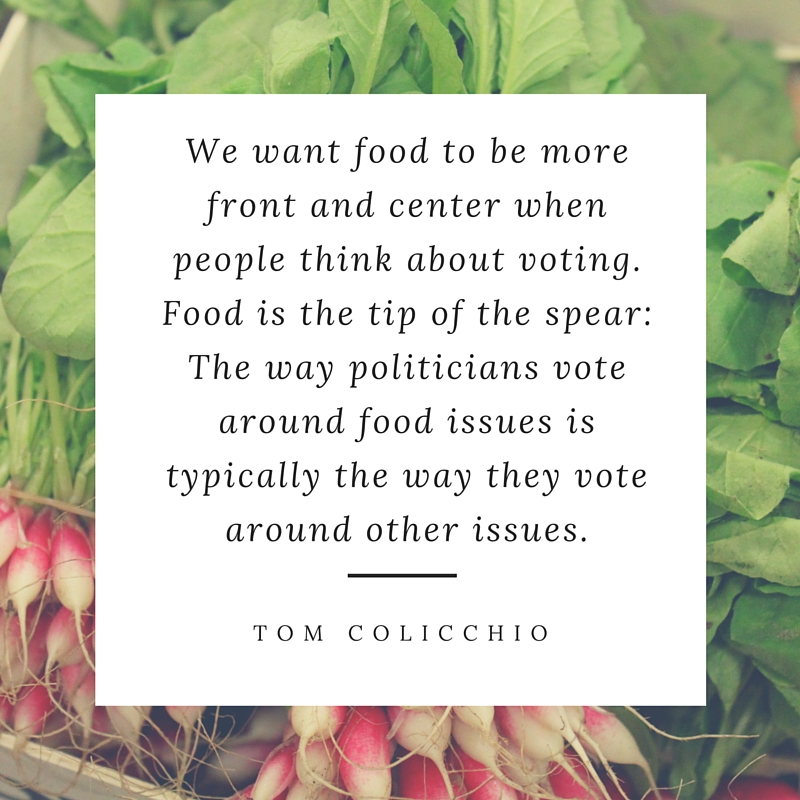 For each bill, they evaluate whether a "yes" or "no" vote contributes more to a sustainable food system. Then, legislators get a score on their cumulative performance – what percentage of times they have voted sensibly.
On their website, you can search for your state and particular legislators in order to hold them accountable. Since this is a great database of semi-aggregated findings, I decided to go one step further. What can we actually learn from them?
On this map, you see that average state scores run the gamut from 5.5 to 100% of "sensible" voting. Anything below 52% is red, anything above that in shades of green. This shows very succinctly the division between agribusiness-oriented states in the Midwest, supporting legislation that favors productivity and commodity-oriented agriculture over environmental and social justice concerns. New Mexico stands out there in the South, but although pastures cover more than half of its area, agriculture is a negligible part of its economy, so I guess the political interests aren't as big.
On the right, you can also find a division of voting patterns across parties. You will note that this is very much a partisan issue – with the vast majority of Democratic votes clustered above 50%, whereas the majority of Republican votes are below 50%. There is one outlier – Sen. Lisa Murkowsky of Alaska got a perfect 100% despite being Republican.
Indeed, both outliers above 60% are women, prompting me to have a look at gender as well. The orange bubbles are women, the blue ones are male. Do women tend to vote more for hunger and sustainability issues? It seems so, but only slightly – and only for the Democrats. Indeed, for Republicans, women are clustered more toward the bottom when we exclude our two outliers. So maybe the state-level demands are more strong than any particular gender-based preference.
This chart is interactive, so you can play with it! Click on a state to only see the legislators associated with that state appear on the right. Click on the state again to go back to the previous view. If you click on the little pen to the right of Gender that says "Highlight selected items", and then click on either the female or male box, it will highlight those results only. And hovering over any circle will show the score of the individual legislator.
On Tuesday, November 17, Food Policy Action will release the 2015 National Food Policy Scorecard, which will rate lawmakers of the 114th Congress on food and farm legislation from the first session. Make sure to check out the new results!
And if you want to listen to Tom Colicchio explain the entire project, here's the podcast I listened to. The activism section begins at 32:15.